Please click on the link to read the statement.
An Advent Night of Reflection and Music
4-01-20      Midweek Meditations
The gospel readings for daily Mass this week reveal the growing tension between Jesus and those refusing to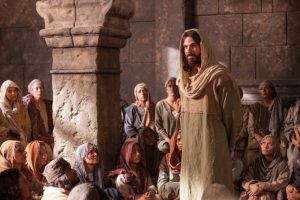 understand or accept who he is.  In today's gospel from John 8:37, Jesus accuses them saying, "You are trying to kill me because my word has no room among you."
'My word has no room among you' is a phrase that haunts me when I read it.  How easy for me to judge them for not allowing the word of God to find a place in their hearts.  Yet, the whole story of Jesus is replete with rejection by those who were supposedly religious; he is driven out of synagogues, scorned for dining with sinners, judged for healing on the sabbath, and finally mocked as he hangs on a cross.
All of which brings me back to that haunting line about finding room for God's word.  It can't just be knowledge of God's word- even the devil knows scripture.  Have I made room in my heart and soul for Christ to truly dwell in such a way that my life is transformed by him to be a true disciple filled with genuine compassion, boundless mercy, and a servant-spirit?
Lord, help us always to make room for you in our lives.
Blessings,
Msgr. Bill Duncan
Reflection on
The Annunciation of the Lord
March 25, 2020
In the midst of our Lenten season we arrive at another special feast day- the Solemnity of the Annunciation of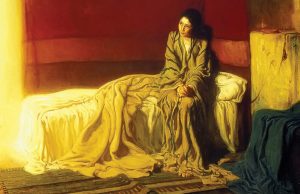 the Lord.  This feast commemorates, in the first chapter of Luke's gospel, the angel Gabriel appearing to the young virgin, Mary to announce that she will bear a son conceived by the Holy Spirit to be named Jesus who will be called Son of the Most High.
We are so familiar with this story that perhaps we fail to grasp what truly has taken place.  Mary is the first among all human beings to hear of God's decision to come and dwell among us as one like us.  She is greatly troubled by the angel's greeting but is told not to be afraid.  Before the angel's departure she moves from fear to acceptance of God's Word.  God's Word has been spoken and is now within her womb.  How wondrous a moment for her and for all humanity.  For, on behalf of all of us, Mary, who has found favor with God, welcomes with faith God incarnate into the world.
The Annunciation, the first of the Joyful Mysteries of the Rosary, should indeed call us to rejoice.  For now, in a world beset by a pandemic, we too might be afraid.  We must hear the voice, not of an angel, but of the Lord himself who continually calls his disciples to not be afraid because he would always be with them- the Son of the Most High.
Hail Mary, full of grace the Lord is with you.  Blessed are you among women and blessed is the fruit of your womb, Jesus!
Lenten peace,
Msgr. Bill
March 19, 2020
Dear Friends in Christ,
I write this note on the feast of Saint Joseph, patron of the universal church. When we reflect on his life, we can see how much faith he had to willingly be a part of God's plan.  He was asked by God to take Mary as his wife even though she was pregnant.  He had to find a place for this wife to give birth since there was no room at the inn.  He was asked by God to take Mary and the child Jesus and flee to Egypt to escape King Herod's plan to kill Jesus.
These episodes reveal a man who faced many crises and yet trusted in God to grant him the courage and strength to meet these challenges and fulfill the responsibilities entrusted to him.  Perhaps then, St. Joseph is an appropriate model for us in this challenging time.
We may not understand all that is happening around us at this time.  But each time God's people found themselves in an unsettling time or circumstance their cries to God did not go unheard.  I'm sure St. Joseph, on many a night, with Mary and Jesus fast asleep, must have looked up to the star-filled sky and cried out to God, "Are you sure this is part of the journey?"  Then he would rise to a new day and continue on.  And so must we.  St. Joseph, pray for us!
I miss you all.  You are in my prayers.
Lenten peace and blessings,
Msgr. Bill
Bishop Walkowiak issues the following directives for parishes and schools in the diocese, effective at 12:01 a.m. Tuesday, March 24, in harmony with these government guidelines. For Frequently Asked Questions, click here.
---
---