This fall, our p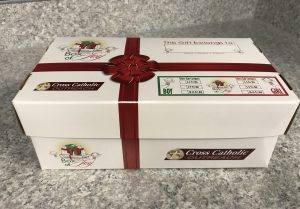 arish will, once again, be participating in Box of Joy, a Christmas gift ministry organized by Catholic schools and parishes nationwide.
By packing boxes of joy with toys and other gifts, our parish will bless children suffering from extreme poverty by sharing the joy of Christmas and planting seeds of hope through the Gospel.  We encourage every family to pack a Box of Joy!
This is our 5th year participating and each year your generosity has grown!  In 2020, we were able to bless over 325 children suffering from poverty overseas!
The boxes are ready for you to take in the back of church. 
Filled boxes must be returned to the back of church or to the parish hall no later than Sunday, November
For more information contact MaryKay Zoulek at 616-745-2827
or by email marykaymczoulek@sbcglobal.net.
You can learn more at www.CrossCatholic.org/BoxOfJoy