Have you ever thought about becoming more involved here at St. Sebastian Church?
Here are some volunteering possibilities
for you to prayerfully consider…
Eucharistic Ministers
Help with the distribution of the Body and Blood of Christ at Holy Eucharist.
Requirement: Must be 18 years old and Confirmed.
Upcoming Training Dates:
            Weds., July 21, at 7pm, Weds., July 28, at 6pm or Sat., July 31, at 12:30pm
Lector/Reader
Must have good reading skills to proclaim the Word of God at Mass.
Requirement: Must be 16 years old and Confirmed.
Upcoming Training Dates:
            Weds., July 21, at 6pm, Weds., July 28, at 7pm or Sat., July 31, at 11:30am
Ushers — WE NEED USHERS DESPERATELY!
Assist seating people before Mass, taking up the collection during Mass, clean up pews after Mass.
Must be at least 16 years old.
Greeters
Welcome people entering the church for Mass.
This is a great opportunity for your family to meet other families in our parish.
Art and Environment
Two people are assigned each month to care for the altar & church flowers.
Responsibilities: arranging plants or flowers for the altar, watering plants.
Help to plan and decorate for Advent, Christmas, Lent and Easter.
For more information, please contact Mona Andre at 616-878-1619 ext. 116 or  mona@stsebastianmi.org.
Ministry of Catechist—Teacher of the Faith
So keep this in mind:  I didn't say to do the "work" of catechists, but to "be" catechists, because this is something that embraces our whole life.  It means leading people to encounter Christ by our words and our lives, by giving witness. ~ Pope Francis
Preschool-High School
Do you have a desire to grow and share your faith?  Do you love to work with children or youth?  Would you like to give back to the community the blessings you receive from God?  Is God calling you to the Ministry of Catechist?
We invite you to prayerfully consider whether this ministry is right for you.  Please call or email one of us if you are interested or would just like more information about this ministry.  You do not have to have a child or youth in the program to volunteer.
We look forward to you joining our "Catechetical Community of Faith."  If you are interested, please contact us!
Preschool-Grade 6 Debbie@stsebastianmi.org Grades 7-12 Morgan@stsebastianmi.org
Director of Liturgical Music Ministry
St. Sebastian's is a growing 900-family Roman Catholic parish in West Michigan seeking a full time Director of Liturgical Music Ministry.
Responsibilities include: principal musician for 3 weekend liturgies; direction of parish and children's choir, cantors, musical ensembles, funerals and weddings, and liturgical planning.  Both Rodgers organ and Steinway piano are available in the church.  Parish hymnal is Gather (3rd edition).
Position is available immediately.  Position Description available upon request. Forward letter and resumé to musicsearch@stsebastianmi.org.
Our Shepherds–Our Future Capital Campaign
Here is a link to a video we encourage everyone to watch about why this Campaign is needed and your support is so important to the future of our Catholic faith.
To learn more about this important Capital Campaign, please go to the Grand Rapids Diocese's website.
Bulletin Series
An Advent Night of Reflection and Music
4-01-20      Midweek Meditations
The gospel readings for daily Mass this week reveal the growing tension between Jesus and those refusing to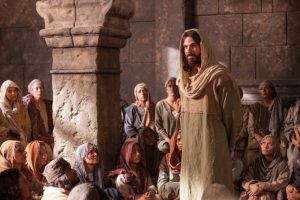 understand or accept who he is.  In today's gospel from John 8:37, Jesus accuses them saying, "You are trying to kill me because my word has no room among you."
'My word has no room among you' is a phrase that haunts me when I read it.  How easy for me to judge them for not allowing the word of God to find a place in their hearts.  Yet, the whole story of Jesus is replete with rejection by those who were supposedly religious; he is driven out of synagogues, scorned for dining with sinners, judged for healing on the sabbath, and finally mocked as he hangs on a cross.
All of which brings me back to that haunting line about finding room for God's word.  It can't just be knowledge of God's word- even the devil knows scripture.  Have I made room in my heart and soul for Christ to truly dwell in such a way that my life is transformed by him to be a true disciple filled with genuine compassion, boundless mercy, and a servant-spirit?
Lord, help us always to make room for you in our lives.
Blessings,
Msgr. Bill Duncan
Reflection on
The Annunciation of the Lord
March 25, 2020
In the midst of our Lenten season we arrive at another special feast day- the Solemnity of the Annunciation of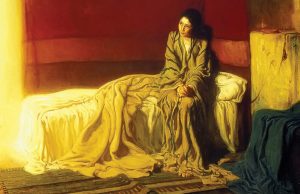 the Lord.  This feast commemorates, in the first chapter of Luke's gospel, the angel Gabriel appearing to the young virgin, Mary to announce that she will bear a son conceived by the Holy Spirit to be named Jesus who will be called Son of the Most High.
We are so familiar with this story that perhaps we fail to grasp what truly has taken place.  Mary is the first among all human beings to hear of God's decision to come and dwell among us as one like us.  She is greatly troubled by the angel's greeting but is told not to be afraid.  Before the angel's departure she moves from fear to acceptance of God's Word.  God's Word has been spoken and is now within her womb.  How wondrous a moment for her and for all humanity.  For, on behalf of all of us, Mary, who has found favor with God, welcomes with faith God incarnate into the world.
The Annunciation, the first of the Joyful Mysteries of the Rosary, should indeed call us to rejoice.  For now, in a world beset by a pandemic, we too might be afraid.  We must hear the voice, not of an angel, but of the Lord himself who continually calls his disciples to not be afraid because he would always be with them- the Son of the Most High.
Hail Mary, full of grace the Lord is with you.  Blessed are you among women and blessed is the fruit of your womb, Jesus!
Lenten peace,
Msgr. Bill
---
---