Centering Prayer Group
Meetings are on Monday afternoons in the Historic Church at 7:00 pm.
Contemplation is a traditional form of Christian prayer rooted in Scripture. Centering Prayer is a modern expression of this sacred practice. Do you hunger for a deeper life of prayer – a support system to help you sustain that prayerful, spiritual growth?
We invite you to join us to learn more about Centering Prayer and to pray it with us each week!
---
Prayer Line
Bev Baird
616-878-9750
Knights of Columbus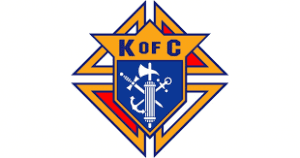 Officer Meetings take place on the second Monday of the month in the K of C Meeting Room at 7:00 pm.
Monthly Meetings take place on the second Thursday of the month in the Youth Center at 7:00 pm.
Want to learn more about the Knights? Contact Mark Boillat at 616-437-3675
Morning Men's Group
Our Morning Men's Group meets weekly for prayer, study and fellowship.
Meetings are Tuesdays at 6:15 am in the Parish Hall.
Come and  join us!
Mother's Ministry Group
Mother's Ministry is a group where moms can meet with each other in community, prayer and support. This year in our meetings we will be watching and discussing short video clips from Father Mike Schmitz from Ascension Press.
Meetings are the second Friday of each month from September – May, from 9:30-11:00 am in the Parish Hall. (Childcare provided)
---
Mom's Night Out
Need a night with the girls? Join other moms on the third Wednesday of each month, from 7:30-10:00 pm at Pete's Tavern in Byron Center (Add directions here – 84th street with Google map link)
Watch the Parish Bulletin for more details on upcoming events such as:
Bible Study

Women's Craft Nights

Couples Night Out

Play Dates

Family Nights

Service Project Opportunities
For more information, please call Sue at the parish office at 616-878-1619.
There is something for everyone.
We hope to see you soon!
Music Ministry
Contact Liz Owen, Music Director, for more information:
liz@stsebastianmi.org ~ 616-878-1619 x104
CLICK HERE FOR REHEARSAL TRACKS
Welcome, musicians! From singers to instrumentalists, classical to contemporary, music readers to ear learners, and all levels of commitment, we have a place for you!


Choir
For adult, young adult, and high school voices, sing in four-part harmony as well as traditional and contemporary styles. No music reading skills required, all singers welcome!
Wednesday nights 7-8:30 pm, 3-4 Masses/month

Youth Band
For youth (8-12th grade) who love quality music and energetic liturgy! Singers and instrumentalists of all kinds welcome! (Instrumentalists should be able to read music or chords and play with some proficiency, contact Liz Owen with questions)
Sunday afternoons, 3:15-4:15 (Right before Sparks/Ignite), 1 Mass/month
Children's Choir, Christmas
For children (3rd-7th grade) who want to join us for the Christmas season. An easy and fun 3-month commitment!
Sundays 11:45 am – 12:45 pm, Oct-Dec
Ensemble
Our dedicated ensemble, led by Jeff Ingle, is welcoming new musicians. This group is perfect for ear-trained vocalists and instrumentalist who read music or chords. Come as your schedule allows!
Thurs nights, as scheduled
Christmas Choir
A 2.5-month choir for those who want to join us for Christmas Eve. A short-term commitment for carols and holiday music, no music reading skills necessary!
Wednesday nights at 7 pm, mid Oct-Dec
Easter Choir
A 2.5-month choir for those who want to join us for Holy Week and Easter. This is an easy commitment and a wonderful experience of our holy season! No music reading skills necessary.
Wednesday nights at 7 pm, Winter-Easter
Resurrection Choir
A daytime choir that helps with funeral liturgies. Participants come as their schedule allows.
As needed, rehearsing an hour before funeral liturgies.
Sorry, no posts were found.
Divorce Support Group
Upcoming Events around the Diocese
Men of St. Sebastian Church, join your brothers; renew your spirit!
Annual 2018 Men's Retreat Weds., July 18, 2018
9am to 5pm

A day for prayer, reflection, conferences, Sacrament of Reconciliation, Rosary, Holy Mass, Lunch Provided
Retreat Master: Rev. Msgr. Gaspar Ancona
Franciscan Life Process Center 11650 Downes St. NE, Lowell
(formally held at St. Lazare Retreat House)
Registration (includes lunch) $60.  No one refused for inability to pay.
Call for information and to register:  616-897-7842 or online at:  www.lifeprocesscenter.og/calendar,
click on Events then Retreats
Register early to reserve your spot!
Contact Jim Lozer, parishioner, for more info or questions:  616-498-8723 or jjlozer@att.net.
__________________________

Help Support Our Seminarians and Priests
Bishop Walkowiak is looking for your feedback!
Over the last year, Bishop Walkowiak, in collaboration with diocesan leaders, has taken steps to evaluate the needs facing the Diocese of Grand Rapids.  He is now asking for your input about a proposed diocesan-wide capital campaign to address a few of these needs which include support for seminarian education, specialized education for our priests, and the diocesan Priest Retirement Fund. Meeting these challenges will require an extraordinary level of financial support that is not possible through the annual Catholic Services Appeal (CSA).
The Diocese of Grand Rapids has retained the services of the Steier Group, a Catholic development and fundraising firm, to conduct the feasibility study. The study will enable the diocese to gather information which will help gauge the level of support for a potential capital campaign.
We believe this process is extremely important, and we encourage each of you to take part, as this will impact all of us. Your input is needed to help us plan for the future of the diocese and our parish. Visit the diocesan website, dioceseofgrandrapids.org, for more information. Thank you for your participation.
Visit dioceseofgrandrapids.org for additional details on how you can participate.
__________________________
Thursday, Sept. 27 at 6:30pm
Holy Family Parish — Lower Level Room 6
(9669 Kraft Ave, SE, Caledonia)
The meetings will offer an opportunity for support through prayer, open discussion about one's own personal experiences and challenges, resources available, speakers on topics such as nutrition, side effects,  stress communication, care options, saints to look to and ways to support one another.  This support group is to allow persons touched by cancer to be with others touched by cancer to gain insight, support, pray for one another & share in a warmhearted and understanding environment.  Those with cancer, survivors, and caregivers are welcome, all ages, stages & diagnoses.  The group will meet the last Thursday of the month.
If you have questions, want to be on the contact list/register, or have an interest in assisting with this ministry, please contact Christine Shafer, 616-891-9259 ext. 224 or cshafer@holyfamilycaledonia.org
Nursery
We are in needed of volunteers!
When:  During the 10:30 Mass
Who: Grade 6 – Adult*
How often would I help? If we have 12 volunteers it is about once a month.
Substitutes for teens and adults are also needed.
*Any adult 18 years and up must attend a Protecting God's Children session, have a background check completed, read and sign some documents.
Questions?  Please do not hesitate to contact debbie@stsebastianmi.org
---
---