Sparks to Light the Fire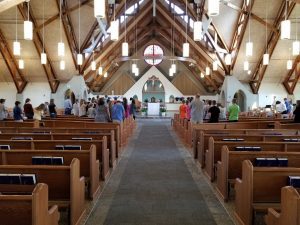 Sparks is a three year required formation program designed to help prepare students  to receive the Sacrament of Confirmation.  The youth will learn about the extraordinary gift this Sacrament is, and appreciate what the Holy Spirit's presence in their life can mean to them.   Also, in recognizing the critical issues that many middle school age youth are facing, Sparks seeks to combine a balance of catechesis, evangelization and service, with the small group experience to engage the youth in dealing with those issues, while at the same time learning the teachings of the Catholic Church on today's social issues.
Sparks meets in the Youth Center bi-monthly, on Sunday's from 5:30pm – 7:30pm (Alternating Sunday's w/ Ignite)
2019-2020
SPARKS THEME – KINGDOM COME
ABOUT THE SPARKS THEME
Who is Jesus Christ? Why did He become a man? What did He do while He was alive? Why did He have to die? What will happen when I die?
Kingdom Come explores the life of Christ, taking the youth through the great drama of His life from the very beginning at the Nativity, to His Passion, Death, and Resurrection, and all the
way to His Second Coming. It brings to light who Jesus is and the great love that He shows through every single thing He did while He was living and continues to do until the end of time. The youth will come to a greater understanding of the greatness and the power of Christ as well as their own eternal destiny.
Kingdom Come dives into the Church's teachings on Christ flowing directly from the Creed (The Profession of Faith) section of the Catechism of the Catholic Church.
The catechesis in this series meets the "CREED" requirement within the USCCB framework for middle school students.
Calendar
IMPORTANT CONFIRMATION INFORMATION
CONFIRMATION CANDIDATES:
Confirmandi will attend 817 Nights Wednesday's January 29, February 5, 12, 19, 2020 from 6:00 – 7:30pm. in the Youth Center.
Attend Candidate/Sponsor Retreat on March 14, 2020 – from 10 am until after the 5:00 pm Special Sending Mass
2019-2020 Youth Ministry Registration Form
2019-2020 Medical Release Form
2019-2020 Misc. Forms
2019 Confirmation Novena
2020 SUMMER MISSION
Sign-up or Confirm Your Weekly Update Subscription
">Sign-up or Confirm Your Weekly Update Subscription
---
---